Course details
【8 items 2H with all you can drink】 3500 yen (tax excluded) Recommended for party !!】 Volume full scale sea supplement course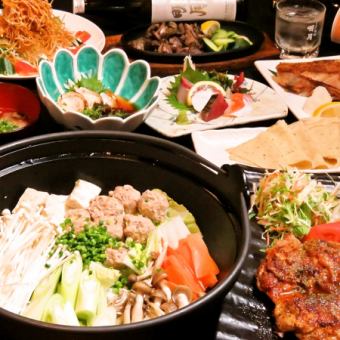 By using a coupon3500 yen
The above is the tax exclusion price.
All-you-can-drink available
Available days for reservation

Monday - Sunday - Public holidays - Holidays
Eight items of dish and all you can drink 2 hours with a volume full scale course of 3,500 yen ♪ Particularly the main tuna bean salt pepper baked dish is exquisite! A rare site "Tuna's Tama" can be taken from only one tuna It is possible to offer one by one person! The amount (4000 yen, 5000 yen), cooking etc can be changed according to consultation.
Course menu
◆ Appetizers 4 types Heavy boxes prime
· Sengja salad
· Ayaki sashimi broiled ponzu
· Grilled Pork
·Savory egg custard
◆ Sashimi (Tuna / Kanbashi / Octopus)
Tuna Salted Soybean Pepper Sauce
◆ Diabolo Chicken
◆ daily change item
◆ Satsuma chicken charcoal grill
◆ Chicken and Duck's Tsukune Nabe
◆ cooked dishes
All-you-can-drink menu
·beer
· Tomarekokami (raw)
· Shochu
· Wood grain / black wood grain / tree ground BLUE / White Kirishima / Black Kirishima / Tensoin descent
·Sake
· Cold Sake / Hot Pot
·Highball
·Plum wine
· Rock / Water split / Hot water split / Soda split
· Plum wine original
· I'm sorry / / Kara Ume ~ / Kara no yome
· Shochu high
· Lemon Sour / Lime Sour / Calpis Sour / Peach Sour
· Wine cocktail
· Carimocho / kitty / operator
·Cocktail
· Screwdriver / Moscommeureur / Cassis Soda / Cassis Orange / Cassis Oolong / Fuzzy Navel / Peach Oolong
·Non-alcoholic cocktails
· · · · · · · / / Kara Ume / KARAYO / Cassis Soda / Cassis Orange / Cassis Oolong
·Soft drink
· Cola / Ginger Ale / Calpis / Calpis Soda / Orange / Orange Soda / Oolong Tea
Coupons that can be used with this course
2018/11/16 update